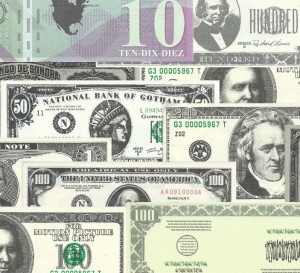 Even though we're told that money doesn't buy happiness, we still think it can. Money's a driving force in our society, as Tony Montana said, "when you get the money, you get the power. Then when you get the power, you get the women". Both on TV and in the Movies, money usually plays a focus in the film or at least a motivator in some sense. Instead of using real money, film companies use prop money printed specifically for their motion picture or for use as a general prop. The bills here are not real money they are phony or fake bills and can't be used as money. These screen used prop bills are great for show or collecting for any age, and a great gift for those people who have everything.   Movie prop money is an affordable way to collect a piece of Hollywood for your own collection.
Most bills come in a semi rigid sleeve and a stand so they are ready for display.  Check out our page on cool free printable photos for professional looking framing of your bill.
ALL ORDERS HAVE FREE SHIPPING!  You will be taken to a secure Paypal page upon checkout.
Here are the main categories…